Stay connected by LIKING the South Asian Nazarene Connections' FACEBOOK page.
Rev. Christopher Nallan, South Asian Ministries Facilitator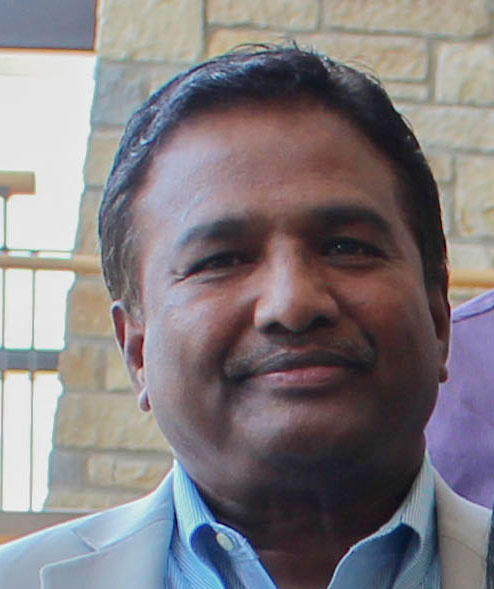 The South Asian Ministries Facilitator, Rev. Christopher Nallan, is accountable to the Multicultural Ministries USA/Canada regional office and his primary function is to implement the agreed-upon policies and strategies for evangelism and strengthening of existing structures on the various districts of the Church of the Nazarene.
Role and Function

The Facilitator is available to arrange meetings with district superintendents and district leaders to help formulate and implement church planting strategies.
Upon the approval of the district superintendent, visit churches and pastors who express a desire to sponsor culture specific congregations.
Upon the approval of the district superintendent, visit to culture-specific congregations that express the need for consultation in leadership development.
Recommend potential pastors for new and existing congregations.
Assist district superintendents, when requested, in the development of strategies for new initiative among specific people groups.
Contact Rev. Christopher Nallan for more information about South Asian Ministries USA/CAN.

South Asian Ministries Strategic Readiness Team
A new South Asian Strategic Readiness Team (SRT) was formed and met at the Global Ministry Center August 24 - 26, 2015. The SRT worked on their vision goals: To identify, develop and train South Asian leaders and strategize church planting toward the goal of registering 20 congregations by the year 2020. The SRT members are: Rev. Chris Nallan, who was appointed as the facilitator, Rev. Christabell S. Selvalingham, Rev. Aneel Mall and Rev. David Partipathi. We welcome the South Asian SRT to the Multicultural Ministries leadership!
South Asian Ministries Unique Mission
South Asian Ministries: "exists to support districts, pastors, local churches, and leaders in the task of making Christlike disciples among African groups in the U.S. and Canada." Click here to read more about African Ministries Unique Mission.
Encourage the development of strategy, initiative, and resources to reach the USA/Canada mission field through the visionary leadership of an African Facilitator and Strategy Committee
Facilitate the creation of resources for pastors, local congregations, and for ministerial preparation through the strategy committee;
Utilize as strategy committee members, church leaders who are committed to establishing the Kingdom of God in the hearts of African people in their communities

South Asian Ministries Plan of Action
South Asian Vision Goals:
To identify, develop and train South Asian leaders and help strategize church plants. Vision 2020: 20 registered congregations by the year 2020.

Mission:
The South Asian Strategy Team exists to support and encourage districts, pastors and leaders to do outreach and make Christ-like disciples among 1st , 1.5 and 2nd South Asian generations.
Implementation:
1. Connect to Christ - Prayer - How?

a) Pray unitedly for the vision once in a month, every 3rd Saturday.
b) Formulate a prayer focus group.

2. Connect with one another as a SRT team - How?

a) Monthly e-mail updates
b) Quarterly conference calls
c) SRT Yearly meeting: 2nd week of Aug 2016, San Jose, CA.
d) Summit/SRT South Asian for pastors and key lay people: Aug 2017
e) Facebook page (SRT) South Asian Nazarene Connection.

3. Connecting to the USA/Canada Region – How?

a) To find out how many churches are in existence and functioning.
b) To be available to district superintendents and pastors to assist in development of South Asian ministries.
c) To identify leaders and affirm their calling thru through the work of districts, pastors, prayer networks, and summits.
d) To help assess leaders for leadership development: (character issues and leadership skills)
e) To encourage ministerial preparation and development thru: Multicultural English MPP (NBC) and CLT.
f) To organize Church Planting Training DCPI

4. Partnership with local churches – How?

a. Develop resources for existing 1stgeneration churches in their transition to 2nd generation.
b. Provide a strong bridge to local church for 1.5 generation and beyond.

South Asian Strategy Committee (SRT):
Rev. Chris Nallan, Facilitator: chris@iccsj.org Phone: (408) 460-4609
Rev. Christabell S. Selvalingham: anjon88@hotmail.com
Rev. Aneel Mall: pastormall@fsachurch.com
Rev. David Partipathi: pdrp98@hotmail.com


New Resources
Nazarene Essentials is now available online on the Wesleyan Holiness Library in several other languages including Burmese, Chin, Thai, Khmer, Chinese and Lahu.
Church of the Nazarene releases new resource simultaneously in four languages - One Lord, One Faith and One Baptism
Pensions and Benefits has contracted with Certified Languages International (CLI) to provide real-time interpretation for those who call them with questions related to church or clergy financial matters. By phoning the 888-888-4656 number, ministers can chat with their office representatives in almost any language.
South Asian Ministry Resources
Statistics
USA/Canada Region Change in Cultural Groups, 2007 - 2017
2013 Ethnic Group Demographics by Districts
Cultural Group Population 2011
Population by District 2000-2010 USA/Canada Region
South Asian Population
Introduction to Lifelong Learning Registry in English

Articles