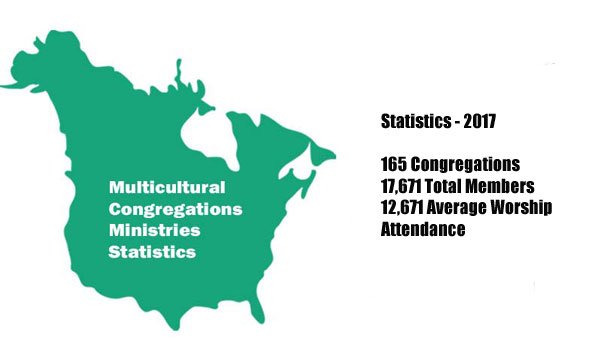 While most churches say they already have or are working on having a multicultural congregation, the majority fall short when it comes to reflecting a diverse community of believers coming together during church services on Sundays, said an expert on multi-ethnic church planting and staffing. Read more here. By Alex Murashko, Christian Post Reporter
Multicultural Congregations Facilitator Rev. Junior Sorzano

Rev. Junior Sorzano, Multicultural Congregations Ministries Facilitator, is accountable to the Multicultural ministries USA/Canada regional office and his primary function is to implement the agreed-upon policies and strategies for evangelism and strengthening of existing structures on the various districts of the Church of the Nazarene.
Role and Function
The Facilitator is available to arrange meetings with district superintendents and district leaders to help formulate and implement church planting strategies.
Upon the approval of the district superintendent, visit churches and pastors who express a desire to sponsor culture specific congregations.
Upon the approval of the district superintendent, visit to culture-specific congregations that express the need for consultation in leadership development.
Recommend potential pastors for new and existing congregations.
Assist district superintendents, when requested, in the development of strategies for new initiative among specific people groups.
Contact Rev. Junior Sorzano for more information about the Multicultural Congregations Ministries USA/CAN.
Multicultural Congregations Strategic Readiness Team
Each Facilitator works with a Strategic Readiness Team. Strategic Readiness Teams meet annually to pray, plan and strategize for their perspective ethnic group in the USA/Canada. The Multicultural Congregations Ministries Strategic Readiness Team is comprised of Multicultural Congregations pastors and leaders that have been approved by the Multicultural Congregations Facilitator and the Multicultural Ministries Director. For contact information visit this webpage.
Multicultural Congregations Unique Mission


While most churches say they already have or are working on having a multicultural congregation, the majority fall short when it comes to reflecting a diverse community of believers coming together during church services on Sundays, said an expert on multi-ethnic church planting and staffing. Read more here. By Alex Murashko, Christian Post Reporter April 27, 2013|10:53 am
Multicultural Congregations Ministries: "exists to support districts, pastors, local churches, and leaders in the task of making Christlike disciples in congregations that are largely multicultural in the U.S. and Canada." It also endeavors to:
Encourage the development of strategy, initiative, and resources to reach the USA/Canada mission field through the visionary leadership of a Multicultural Congregations Mission Facilitator.
Facilitate the creation of resources for pastors, local congregations, and for ministerial preparation for those with a multicultural congregation
Multicultural Congregations Plan of Action
Compile a resource book for multicultural congregation.
Develop module material in Cross Cultural Training
Develop Lay Training material in Cross Cultural ministry
By 2020 Establish 100 New multi-ethnic congregations by identifying and targeting specific areas where the church of the Nazarene needs a presence
New Resources
Nazarene Essentials is now available online on the Wesleyan Holiness Library in several other languages including Burmese, Chin, Thai, Khmer, Chinese and Lahu.

The Spanish language version of the newly revised handbook on ministry adopted by the USA/Canada RCOSAC is available online at Guide to Ministerial Preparation and Ordination.

Church of the Nazarene releases new resource simultaneously in four languages - One Lord, One Faith and One Baptism

Pensions and Benefits is working on translating key resources into several major languages and are making them available online and at training sessions. Notably, the P&B-Provided Benefits Guide is now available in Spanish, Korean, Portuguese, and French, and one in Mandarin Chinese is in process.

Pensions and Benefits has contracted with Certified Languages International (CLI) to provide real-time interpretation for those who call them with questions related to church or clergy financial matters. By phoning the 888-888-4656 number, ministers can chat with their office representatives in almost any language.
Multicultural Congregations Resources
Multicultural Congregations Workshop Track PowerPoints - Orlando, FL

Communicating Well in the Multicultural Congregation - Dr. Bill Selvidge
The Multi-Congregational in the USA/Canada - Rev. Junior Sorzano
Does the Bible Say Anything About RACE Besides Get Along? - Rev. Joseph Knight
A Multicultural Celebration - Rev. Junior Sorzano
Context-Assumptions-Strategy - Dr. Tom Nees
Statistics
Pew Research - The Next America
Churches classified as Multicultural as of August 2017l
Foreign-born Population from the US Census Bureau (Excel Spreadsheet)
Population by District 2000-2010 USA/Canada Region (Excel Spreadsheet)
Detailed People Group Information
Cultural Group Reports 2007 - 2017


Literature/Articles

Thinking Through the Multicultural Church
Worship in Different Languages
Wesleyan Holiness Library
To order at Gospel Tracts in English or additional languages contact tracts@gospeltracts.us.

Multicultural Ministries - USA/Canada Region's 5 Strategic Priorities

Introduction to Lifelong Learning Registry in English
Community Mosaics: Competencies for Multicultural Ministry by Susan B. Carole