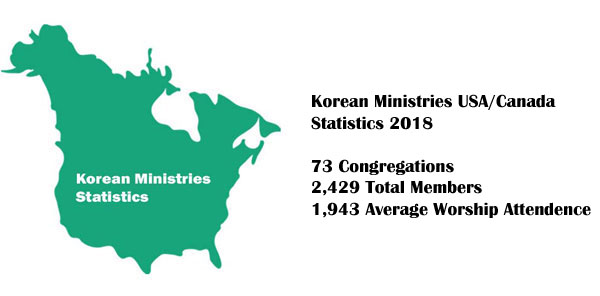 Rev. David Sung Heon Lee, Korean Ministries Facilitator
Rev. David Sung Heon Lee, Korean Ministries Facilitator is accountable to the Multicultural ministries USA/Canada regional office and his primary function is to implement the agreed-upon policies and strategies for evangelism and strengthening of existing structures on the various districts of the Church of the Nazarene. Click here to read how this is accomplished. Rev. David Lee is eager to meet those leaders with heart for the Korean mission field, and he can be contacted through his e-mail at nydavid@hanmail.net or by cell at 347-224-9595.
Korean Ministries Association/Strategic Readiness Team
Each Facilitator works with a Strategic Readiness Team. Strategic Readiness Teams meet annually to pray, plan and strategize for their perspective ethnic group in the USA/Canada. The Korean Ministries Strategic Readiness Team is comprised of Korean pastors that have been approved by the Korean Facilitator and the Multicultural Ministries Director. For contact information visit Korean Ministries Association/Strategy Readiness Team
Korean Ministries Unique Mission
Korean Ministries: "exists to support districts, pastors, local churches, and leaders in the task of making Christlike disciples among Korean groups in the U.S. and Canada." It also endeavors to: Encourage the development of strategy, initiative, and resources to reach the USA/Canada mission field through the visionary leadership of an Korean Mission Facilitator and Strategy Committee. Facilitate the creation of resources for pastors, local congregations, and for ministerial preparation through the strategy committee; Utilize as strategy committee members, church leaders who are committed to establishing the Kingdom of God in the hearts of Korean people in their communities
The Korean SRT/Association has developed the Korean Mission Strategy Initiative (KMSI) as the result of brainstorming, discussion, and planning along with much prayer to strengthen the existing ministries and to expand the Kingdom with planting new churches in the Korean mission field of the USA/Canada Region.
한인선교 전략국/총연은 많은 기도와 함께 의견교환, 논의, 그리고 계획수립 과정의 결실로 기존 교회 사역들을 강화하고 미주 지역 한인 선교 현장에 새로운 교회 개척을 통한 왕국의 확장을 위하여 "한인 선교 전략 계획"을 수립하였다.

New Resources
Nazarene Essentials is now available online on the Wesleyan Holiness Library in several other languages including Burmese, Chin, Thai, Khmer, Chinese and Lahu.
Church of the Nazarene releases new resource simultaneously in four languages - One Lord, One Faith and One Baptism
Pensions and Benefits is working on translating key resources into several major languages and are making them available online and at training sessions. Notably, the P&B-Provided Benefits Guide is now available in Spanish, Korean, Portuguese, and French, and one in Mandarin Chinese is in process.
Pensions and Benefits has contracted with Certified Languages International (CLI) to provide real-time interpretation for those who call them with questions related to church or clergy financial matters. By phoning the 888-888-4656 number, ministers can chat with their office representatives in almost any language.
Korean Ministries Resources
Upcoming USA/Canada Korean events
Korean Conference 2016
Find a Korean Church
Church of the Nazarene Manual in Korean
Cultural Group Report 2008 - 2018
Census Foreign Born Population
Wesleyan Holiness Library
To order at Gospel Tracts in English or additional languages contact tracts@gospeltracts.us.
Lifelong Learning Registration and Reports