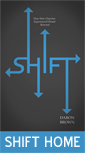 "People shifts are changes in mind-set, attitude, and action that lay leaders and entire congregations embraced in order to welcome a new day in their local settings. These people shifts were vital for ou rnine churches to experience vibrant renewal."
- Daron Brown, Shift, p. 63

Daron Brown explains the "people shifts" needed to bring vibrant church renewal (6:12).