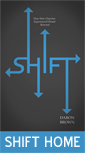 "The pastor shifts are 1) Doer to equipper and 2) Desk to field...First of all, these shifts are biblically based. Our scriptures are clear. These shifts articulate God's design for Kingdom leaders. Second, these shifts free pastors from outdated, ineffective ministry models. Many pastors' hands are tied because of errant expectations or assumptions related to pastoral ministry."
- Daron Brown, Shift, p. 40

Daron Brown explains the shifts a pastor needs to make to help a church become missional (4 min., 51 sec.).