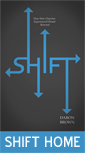 "We experienced a renewed, collective dependence on the Lord. People came together to fill sandbags, move furniture, and repair buildings. Some of them had not served the Lord prior to these disasters. For those people, the fire and flood accomplished what I had yet to be able to do--they got people involved in ministry. With the Lord's help, we went through fire and water. And he brought us to a place of abundance."
- Daron Brown, Shift, p. 113


Daron Brown explains the importance of embracing obstacles as a way to unlocking opportunities for local churches seeking renewal (2:53).

Junior Sorzano explains how his church moved from looking at obstacles to embracing opportunities (9:05).