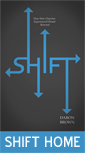 "Vibrant pastors were asked to evaluate their churches using Kennon Callahan's Twelve Keys to an Effective Church...Five of the nine vibrant pastors rated 'dynamic corporate worship' as their strongest of the twelve keys. While it was not the strongest area for the other churches, it nevertheless remained very high in their evaluations."
- Daron Brown, Shift, p. 100-101


Daron Brown explains the importance and what is meant by "energized worship" (3:10).