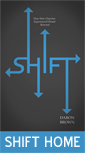 "One might assume that the word pastor appears in the Bible dozens of times. In fact, the word is recorded only once in Scripture: "Christ himself gave...pastors...to equip his people for works of service, so that the body of Christ may be built up" (Ephesians 4:11-12, emphases added). This passage is crucial for developing a healthy, biblical understanding of the role of a pastor. The verb that is used in conjunction with pastor is equip. Going back to the original language, we find that one definition of equip is "to make ready for use."
- Daron Brown, Shift, p. 41-42


Tony Miller explains what it means for a pastor to change from a "doer" to an "equipper" and why this is important (3:55).