What is Engage the Word?
Engage the Word is an exciting and easy way to deepen your connection to God and others through daily reading of His Word. This special emphasis is uniquely designed for individuals, families, small groups, and congregations to develop lifelong habits of daily Scripture engagement.

Community Bible Experience
This year we are recommending the use of Community Bible Experience, which are special resources created by Biblica. Community Bible Experience is a different way to read the Bible. It is less like a reference book and more like a story. Click here to view a video illustrating this special methodology.
Through specially designed questions, discussion is encouraged by all age groups regardless of education or life experiences. In addition, your USA/Canada SDMI office is recommending the use of downloadable resources from the Community Bible Experience from the Biblica website.
As we embark on the Engage the Word journey with Biblica/Community Bible Experience, there are a few issues requiring further explanation.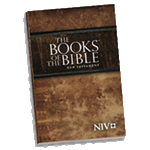 Engage the Word Starting Date
While the published starting date for Engage the Word is in October 7th, in reality it is adjustable. Every year we have a significant number of Nazarene Churches choose to delay the emphasis until a more convenient time. Some choose to start in October, others January, and still others in the spring. The goal of Engage the Word is for every local church to increase their biblical literacy by reading scripture and sharing what they are learning with each other. To date we have found no more effective way of achieving that goal and reaching out into the community than the tool we are recommending, the Community Bible Experience.
Digital Resources
When we learned about the potential New Testament delivery problem, we began to explore the availability of alternate resources. Access to a free electronic copy by clicking on the icon below. If you choose this method of delivery, select download under the EBook graphic, then save the file to your computer. You may have to download a free e-reader so you can view the file. However, when done, you have the New Testament in your computer. In addition, those who have a Kindle or Nook can download the New Testament without downloading a special reader for $4.99. You will find other downloadable resources on that same webpage. Below you will also find additional digital resources you can download.
Additional Digital SDMI Resources
With our decision to journey with the Community Bible Experience, we have found ourselves on an unexpected detour. Thank you for your patience with us as we work through the challenges of this partnership with Biblica. We believe this initiative is important, and we must find a good solution for all the congregations wanting to participate. Please send your inquiries to engagetheword@nazarene.org.
---
Engage the Word
Click here for Nazarene Essentials Denominational Resources.
Sign up to have the daily Bible passages delivered directly to you in the following languages via email or text. Select the language link of your choice for email delivery or text the code associated with your language choice to 72717.
Text messages:
• English - text etwenglish2016 to 72717
• Spanish – text etwspanish2016 to 72717
• French – text etwfrench2016 to 72717
• Portuguese - text etwportuguese2016 to 72717
Email registration links
• English
• Spanish
• French
• Portuguese
Downloadable Resources