Inside to Out…
To "huddle up" and stay inward focused is a natural tendency for most churches. To be outward focused takes faith and intentionality. The Chanute church decided if they were going to be outside the "box," they needed to think outside their church.
The inside to out shift happened in different ways. First of all, the church wanted to make sure that each person who visited felt welcome and appreciated. The church started giving out gift baskets to first time visitors and their children. The same Sunday a new person visited our church, Pastor Kevin would send a text message to the visitor that afternoon reinforcing his appreciation and then Thursday of that week would pay him or her a visit at home. Follow up for the next several weeks were then divided up among leaders ensuring each visitor had at least seven different contacts from the church.
After attending church for the first time, I was contacted via a letter, email, phone calls, and a house visit by multiple people. It made me feel like the members of the church really cared about me and wanted me to attend. As I continued to come to church, people also contacted me to invite me to other church activities. I had just moved to town and did not know anyone, so I appreciated all of the outreach. It also made me realize how active and excited the church was, which is one of the reasons I decided to continue to attend. - Roxanne Wallace
The Chanute church set a goal of doing eight major outreach events each year. The first outreach, a free ham giveaway, happened a week before Easter in April of 2014. For the Chanute church, this was a big step of faith. Not only had the church never done an outreach like this before, but the outcome of the event would determine the future momentum of the church. An advertisement was placed in the paper encouraging people to call to register for their free ham. Members of the church donated gifts to be given away as door prizes and the event was scheduled to go. The outreach didn't go without any opposition, however. Other pastors from the community publicly condemned the outreach event and criticized Pastor Kevin from their pulpits. They made comments about Pastor Kevin saying, "He's nothing more than a time-share salesman" and "He is just soliciting the gospel with hams to try to get more people in his church." But despite the opposition, the church went forward in faith with the event. More than eighty people showed up for the ham giveaway. After a short gospel presentation, thirty people came down to the altar to pray for salvation. And from that single event, twenty un-churched people found a new home at Chanute Church of the Nazarene.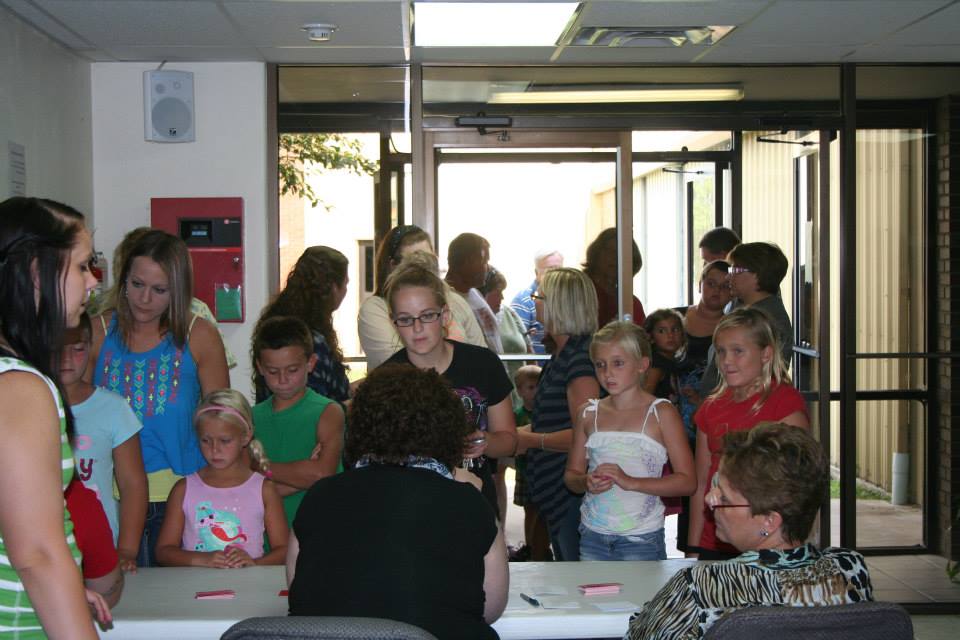 When I first found out about the ham giveaway, I was very skeptical about going to a church that was giving away anything for free. I wouldn't say I was an unbeliever, but I definitely wasn't a practicing Christian. My history with church showed me that a person's worth was the same size as their wallet. I went ahead and pre-registered for the ham because it would help feed my family of six. When I went to the giveaway, I fully expected to see a middle aged man give a dry speech about how we needed Christ in our lives. I also knew I would be able to walk in, grab my ham, and walk out without ever looking back. The opposite was true. As we walked through the front door, my children and I were greeted by a smiling woman who treated us like we had known each other for years. I signed us in and went and found our seats. When the pastor walked in, I first noticed that he was young. He never introduced himself as the pastor, only as Kevin McDonald. He shared his story about how he was lost and then found Christ. He asked if those who knew Christ before but had grown distant from Him would raise their hands. I raised mine. He invited everyone whose hands were raised to come forward for prayer. I went. As a group, we were prayed for. As an individual, I was saved. My children and I attended church that next morning and have ever since. I truly believe that the Holy Spirit was there that day at the ham give-away, and has been with us every day since then. - Jennifer Barnett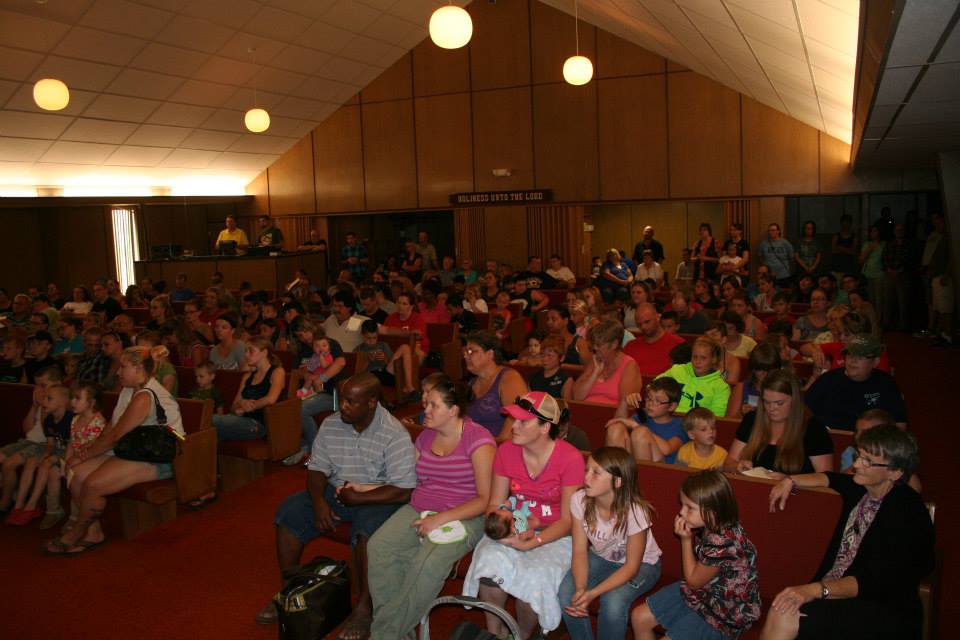 When we attended the ham giveaway, we heard Pastor Kevin give his testimony. I heard things that I knew my husband could relate to. Pastor Kevin and my husband had similar life experiences that led to some of the same choices. When Kevin asked if we had ever been hurt by the church before, he definitely struck a chord with my husband. My husband had been so hurt and rejected by the church that he has had no interest in attending church regularly or in the things of God for over 40 years. That day at the ham giveaway something changed. My husband is now interested in church and we have been attending the Chanute Church of the Nazarene regularly. In the last few weeks my husband has taken it upon himself to start reading his Bible too. The changes are significant and have set our lives on a brand new path. The ham giveaway opened the door for us. We now belong to a church that cares about our family and if anything were to ever happen in our lives, they would be the ones there for us. - Shari Proctor
In August of 2014, the church hosted its second major outreach event. The Chanute church focused on giving out school supplies to students in the community going back to school. The church set a goal to raise enough supplies for fifty students. On the evening of the registration, the outreach had fifty students registered within the first thirty minutes. When the volunteers asked if they should close down the registration, the leadership sensed that God wanted to do a miracle and encouraged the volunteers to register all who called. The outreach team hit their knees and went to the Lord in prayer. They had more than three times the students register than they had school supplies. The Chanute church knew if the outreach was going to succeed, God was going to have to provide. By the end of the day more than 1,000 dollars had been donated toward the school supply giveaway and enough supplies were purchased for both the giveaway and the families of all who volunteered as well.
On the night of the giveaway, more than 200 people filled the sanctuary. Pastor Kevin preached a gospel message and gave the invitation to come and pray for salvation. More than twenty people responded and came to the front for prayer. Pastor Kevin recalls, "When you're giving the invitation to come pray, in the back of your mind you think 'No one is going to stand up and respond' but then they do, and all you can think at that point is 'Wow, God!" Over the course of six months and two outreach events, more than fifty people have been saved, dozens of baptisms have taken place, and more than thirty people have found a church home at the Chanute Church of the Nazarene.
Another way the Chanute church moved from inside to out was to reach an unmet need in the community. The city of Chanute has a significant Hispanic population but had no Spanish speaking church. In response, the Chanute church took the steps necessary to plant a Hispanic church in their community. The Chanute church recognized that their facilities were not being utilized on Sunday nights and offered the building and all its resources to be used as the Hispanic church location. A week was designated for evangelism and in July of 2014 the Chanute Hispanic Church of the Nazarene was planted.
Excerpt from Article Written by Jeremiah Wood (Chanute Student Ministries Pastor) as Told by Kevin McDonald (Chanute Senior Pastor)