The momentum for church planting movements across the USA/Canada Region in the Church of the Nazarene continues to grow. Two successful church planting training events were held in the southeast U.S. in January 2013. The first was held in Virginia and the second, soon afterward, in Alabama. Hosts, trainers, and participants reported positively on the amount learned at the trainings, and commitments were made to multiply churches.
The trainings are part of a church planting training track series created by Dynamic Church Planting International and facilitated by USA/Canada New Church Development. Tracks in the series include:
Church Planting Essentials (CPE)
Churches Planting Churches (CPC)
Becoming a Mentor (BAM)
Church Planting Movements (CPM)
The Virginia training took place at Charlottesville First Church of the Nazarene, January 7-11. Pastor Reggie Phillips hosted, and 19 attended the training. They offered two training tracks, Church Planting Essentials and Churches Planting Churches, for planters and sponsor pastors, respectively. Since it was the first DCPI training in Virginia, the trainers came in from other states: Dr. Bill Wiesman, Director of New Church Development for the USA/Canada Region; Pastor Kim Richardson from Massachusetts; Pastors Chris and Lynlee Moser from Texas; and Pastor Sam Flores from Texas.
The majority of participants indicated they were newly inspired to start and multiply churches. Here is a sampling of the comments we received on the feedback forms about the event:
"This training did two things for me: 1) It provided guidance for how to go about planting a church, and 2) it affirmed God's call and direction for how I am engaged in the process of planting a church. A great resource and must for any pastor and church planter."
"This workshop has deeply impacted me. I am leaving quite changed. I have to go back and work to lead my church and others to make more disciples, especially by making more churches - we have to multiply!"
"This seminar ignited in my soul the spark that was already beginning and it fanned it into a roaring fire."
"A necessary church planting training course that is essential for every pastor, church or district desiring to be part of church planting projects."
"The DCPI and Nazarene partnership helps bring focus, clarity and impact to continuing the Holiness Movement."
In a phone conversation after the event, Dr. Phil Fuller, DS of the Virginia District, commented on the aspects of the training he most appreciated. "Church planting is active in conversation and practice on the Virginia District. This training fueled that conversation and reaffirmed how important it is to imprint this in our DNA. Not only that, but there are churches that will be started on our district because of this. God moved, ideas germinated and plans were formed. CPE and CPC aren't about creating more trained people; they're about creating more churches."
Much of the energy and work to bring the training to the Virginia District was done by church planter Reggie Phillips. Reggie attended the Church Planting Movements training held in Philadelphia in October 2012, and returned home with a good report. Dr. Phil Fuller, Virginia DS, noted Reggie's enthusiasm and asked him to spearhead hosting an event on the Virginia District. With little time to plan, Reggie and a small team contacted the USA/Canada Region, ironed out the details, and ran an excellent event. Reggie was happy with the event, saying it was "wonderful to be able to emerge at the end of a three-day training with a ministry plan that you can actually have confidence in." More church planting training events are on the horizon for the Virginia District.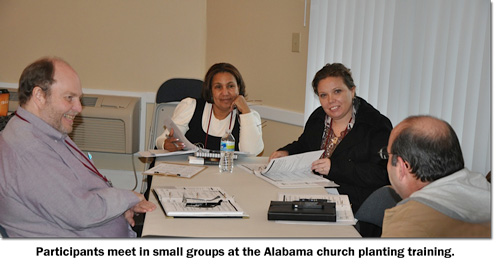 One week later, the Alabama training event took place at the lovely Rolling Hills Conference Center. 32 people were in attendance and, like Virginia, both Church Planting Essentials and Churches Planting Churches were offered. Trainers included Dr. Bill Wiesman; Pastor Scott Lowry of Huntsville First Church; and Pastor Mark Bane of Gracepointe in Atlanta.
The training came to Alabama at the joint request of Dr. Mark Berry, DS of South Alabama and Rev. Greg Rickey, DS of North Alabama. Dr. Berry initially called Dr. Bill Wiesman, director of USA/Canada church planting, after a presentation that Dr. Wiesman gave at last year's DS gathering in Denver. They confirmed a January date, and worked with Rev. Rickey to recruit pastors from both Alabama districts. The result was a well-attended event that presenters and participants agreed effectively equipped pastors to start more Nazarene churches in Alabama.
Here are some positive comments that participants related about the training:
"DCPI has transformed my life and our district. Because of the training, it has brought an anticipation and excitement among our pastors to plant new churches."
"I received the tools to help me to effectively reach the lost and build the kingdom by church multiplication. Thank you."
"DCPI presents practical information that can be put into practice either to revive existing churches or used to prepare for a church plant."
Pastor Scott Lowry served as both trainer and on-site director. He related one "God moment" that occurred during the event. Two members of the same church attended the training, one enrolling in the track for church planters (CPE), the other enrolling in the track for church sponsors (CPC). When it came time for presentations, the two members were shocked that, with no previous planning, their visions for starting a new church were nearly identical. They praised God for similarly directing them.
Dr. Berry believed the strength of the trainings was the emphasis on planning. "It wasn't just lecturing. At the end they had a plan to carry out. It's the first time in six years I've seen pastors walk away from a training with a zeal for their ministry and for planting churches." Dr. Berry incentivized his pastor's attendance by paying 50% of their way and 100% if they were a current church planter.
It is clear that God is placing in the hearts of Nazarene pastors across the USA/Canada Region a desire to start more churches. If you are interested in hosting one of the DCPI trainings in your church or district, please contact Dr. Bill Wiesman at bwiesman@nazarene.org.
For more information about starting a church on the USA/Canada Region, please visit our church planting page.