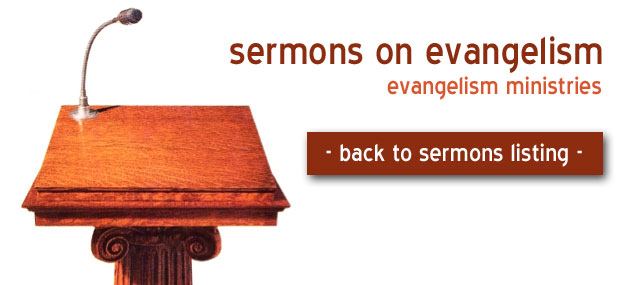 Don't Delay!
Matthew 24:36-44
By Derl G. Keefer
When my family gets together they play a game that starts, "Ill never forget when…" and it usually involves something that I have done! Although the event is over, the memory remains.
Jesus' story in the Bible text chillingly reminds of one of the "I'll never forget when" incidents in my life. Within a couple of months after moving into our first purchased home in ministry, we experienced a break-in by a thief while we were gone overnight. We had stayed at my mother-in-law's home and my wife returned to our house the next morning. She entered the house by the side door, and sensed something was wrong. Soon she discovered someone had kicked in our back door. After calling the police we found that little had been stolen, but the intruder had trashed the bedroom while rummaging through our personal belongings. Though we did not lose much monetarily, we did experience loss. Our greatest loss was what most victims experience---their security of privacy. Months passed before we could shake the awful feeling as we entered the house that someone might be lurking in the shadows. Immediately after the break-in we installed sensor lights, fixed the broken door and changed all the locks. Like the owner of the house in Christ's story, if we had known the time the thief was coming, we would have stayed home, left the lights shining brightly, played loud music and borrowed a pit-bull from one of the neighbors to welcome the thief.
Jesus told his listeners then and his audience today that He will return a second time, but it would be at the least expected moment. Our problem would be to delay our action of preparedness.
I. PREPARATION INCLUDES PRIORITIZATION.
Our motto should be, "First things First". On a Judean hillside Jesus taught the throng of listeners what God looks for in the lives of people. He put it all in perspective when he summarized by saying, "But seek first his kingdom and his righteousness…" (Mat.6:33 NIV). These Kingdom priorities include…
*Confession-To openly declare that Jesus is Lord and dependency on him in life (Romans 10:9-10).
*Salvation—to become Heaven bound (John 3:16).
*Faith—to live by hope and not by sight (II Corinthians 5:7).
*Commitment—to live for the person of Jesus (Matthew 9:9).
*Grace—to live a life worthy of God's calling (Ephesians 4:1).
*Sanctification—to live life in a holy manner (Hebrews 12:14).
*Prayer—to have two way, open communication with Almighty God (Ephesians 6:18).
Our prioritization of seeking God's Kingdom is actually seeking the salvation that God offers.
Chuck Swindoll tells that Portuguese settlers many centuries ago spent ten years constructing a massive cathedral on a high hill off the coast of South China overlooking the harbor of Macao. It was built to last forever, but a typhoon leveled it except the front wall. On the tip of that massive fortress like wall stood a huge bronze cross that defied the mighty winds that whirled up the hillside.
In 1825 another horrific storm hit that same area. Sir John Bowring was on board a sailing vessel that shattered when the typhoon hit. He clung to some boards that floated in the water, but because of the great swells, the threatening skies, and his injuries he could not get perspective where the land was located. After a long time in the churning water, he caught sight of the bronze cross atop the old cathedral wall. His rescue was dramatic and caused him to reflect on life. He expressed his gratitude to God for saving his life by writing several lines of a poem. Later someone put music to the poem and for over a hundred and seventy-five years Christians have been singing:
In the cross of Christ I glory,
Tow'ring o'er the wrecks of time;
All the light of sacred story
Gathers round its head sublime.
When the sun of bliss is beaming
Light and love upon my way,
From the cross the radiance streaming
Adds more luster to the day.
Our first priority is to know the Jesus that rescues from sin. Are you living with kingdom priorities or the ho-hum priorities of the world?
II. PREPARATION INCLUDES ACTION.
The Shakespearian play, Hamlet, is about a gifted young prince who possessed sensitivity, wit and exceptional intelligence. He was recognized as a natural leader. Though he looked the part he had one outstanding flaw: he could not bring himself to take action!
At the beginning of the play Hamlet encounters his father's ghost. The spirit relates that Hamlet's father's brother was the murderer. Hamlet screams outrage and swears to avenge his father's death. Throughout the play Hamlet takes no action whatsoever on his father's death. Hesitation plagues him.
As the play continues the spirit of the father reappears to his son and chastises him by basically saying, "For Pete's sake, son, quit talking and get with it!"
We talk often about how we ought to do this or that, but we are like Hamlet. Hesitation plagues us. God calls us to action!
*Where would our lives be now if we would have acted on God's call to repent?
*Where would we be if holiness were part of our lives?
*How many people would become Christians if Christians witnessed?
*How many people would be fed and clothed if Christians took seriously the mandate for social concern?
*How many people would be healed if Christians would intercede for their wellness?
*How many deaths by drunk drivers would be stopped if Christians proclaimed temperance?
*How many teenage pregnancies would be avoided if Christians taught abstinence?
For God's sake, your own sake and the sake of others, it is time to quit talking and take action!
III. PREPARTATION INCLUDE POSITIVENESS.
Negativity destroys accomplishing most goals. When we examine the scripture text, Jesus definitely relates the fact that sometime He is returning. What a positive eternal event it will be—for those who are ready for His return any hour of the day or night? I want to be like the one man working in the field or the woman grinding with the hand mill who are taken by God. How exciting that day will be for those prepared for their trip to an eternally positive destination!
George worked in a machinist shop. He was always singing old hymns as he worked. Many of them had to do with the coming of Christ, such as "In the Sweet By and By" and "When the Roll is Called Up Yonder."
Late one Friday night about ten minutes before quitting time someone asked, "George, are you ready?" He said, "Uh-huh." But it was obvious that he was not ready for his clothing was all dirty. He appeared to be ready to keep on working, not quitting work. Again he was asked, "Aren't you ready to go home?" He restated, "Yes, I'm ready." The questioner said, "But you don't look ready? You need to clean up." "No," he responded, "let me show you something." With that he unzipped his coveralls and underneath were the neatest, cleanest clothes you ever saw! He had them all ready. All he did when the whistle blew was just unzip and step out of the coverall, walk up and punch the time clock. He was ready. He said, "You see, I stay ready to keep from gettin' ready—just like I'm ready for Jesus!"
Are you ready?