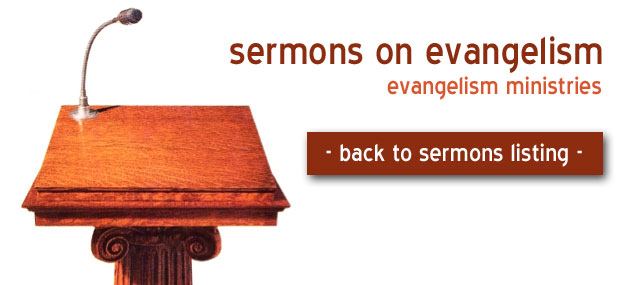 Title: How Good is Good Enough?
Scripture: Romans 3:21-24
Proposition or Theme Sentence: Because we have sinned, merely living a good life is not enough; we must trust in Jesus if we want to be right before God.
Purpose: To bring people who think they "good" to trust in Jesus for their salvation.
Introduction:
-Tell the story of Brian and our friendship and our conversation at work one day about religion. When I asked him about heaven, he said, "I'm a pretty good person. I think it will all just work out."
-For some reason, I don't think my friend is the only one to have this opinion.
I. Most of us think we are pretty good people
A. Most people do not try to be exceptionally bad or good.
1. We try to "do the right thing" at least part of the time.
2. We make room for "mistakes" because "no one's perfect!"
B. We enjoy stories that honor the heroes and vilify the villains.
1. We desire happy endings where the hero wins and good prevails.
2. But the heroes often struggle with temptations and desires to do evil.
3. One example in pop culture is Homer Simpson
a. He is known for being lazy and desires to take the easy way out
b. But He usually does the right thing in the end.
c. He is portrayed as being a good person for doing so.
C. Historical figures often remembered for being and/or doing good or bad.
1. Examples of bad: Adolph Hitler, Jesse James, Richard Nixon
2. Examples of good: Gandhi, Mother Theresa, Albert Einstein
3. While we would not place ourselves near either of these extremes.
4. We would place ourselves somewhere in between, probably closer to the 'good' side.
D. Our Conclusion? We are neither really bad nor really good, but we are good enough to get by.
II. Psychological analysis: Why we do good and want to do good
A. We were taught to do good, to some extent, by our parents.
1. Parents teach, by instruction and example, what is good behavior.
2. It is commonly stated that children quickly learn to say the word "No"-implying the presence of moral instruction.
3. We were rewarded with praise and smiles when we did good.
B. We also learned that the governing authorities of society expected us to do good.
1. We discovered that those who break laws are punished and those who follow the laws are not punished.
2. We also discovered how law-breakers are dishonored and law-keepers are honored.
C. We also learned that God and religious leaders expect us to be good people.
1. We are taught that those who do good are on God's side and those who do bad are on the devil's side.
2. We are taught that God rewards those who do good and punishes those who do bad.
III. Theological analysis: What God says about our goodness
A. He has given us two ways to know what is good and what is bad:
1. Our conscience
2. His Laws-generally speaking-the Bible
B. He has given us his standard: righteousness.
1. Righteousness is basically being right before God or pleasing to God
2. Righteousness includes living good and moral lives-consistently doing what we know is right and never doing wrong.
3. God measures our goodness by how well we live up to his laws.
C. But when we read the Bible, we come across a problem: Romans 3:21
1. There is a new kind of righteousness.
2. This righteousness does not come by obeying all the laws.
D. How do we get this new righteousness?-"through faith in Jesus Christ" - Romans 3:22a
1. Faith is not merely belief, but also trust.
2. Our trust is in Jesus Christ and his death on the cross for our sins.
3. By trusting in Jesus and his death we are somehow made righteous.
E. Who can get this righteousness?- "all who believe" Romans 3:22b
1. It doesn't matter what race, economic status, or religious background a person might claim.
2. The only condition is belief-trust.
F. Why is the new righteousness needed?- "all have sinned" - Romans 3:23
1. Every person has done bad things in his/her past.
2. Every person has disappointed God, and has not measured up to his standard.
3. No amount of good behavior or good deeds can make up for our sins.
G. How do we get this new righteousness? Part 2- "justified freely by his grace through the redemption that came by Jesus Christ" - Romans 3:24
1. To be justified is to be made right.
2. We are justified freely-without cost to us; therefore we can't earn it.
3. This happens by grace; it is all because of God's love for us.
4. God redeemed us through Jesus Christ
a) God has rescued us from our sinful state.
b) We are now under God's power and authority.
Conclusion: Do you consider yourself a good person? You probably do more good things than bad, and you probably are a pretty good person. But God's word says that we have all sinned and therefore are in trouble. And we can be made right by trusting in the death of Jesus. And those who trust in the death of Jesus and are made right have a new relationship with God and can know that when they die they will go to heaven.
Invitation: Unfortunately my friend Brian thought he was good enough and didn't need to worry about being right. I wonder how many of us think the same way. God has shown us in his Word that we have all sinned and need to trust Jesus in order to be made right. Would you like to be made right with God tonight? Have you been trusting in your own goodness? Would you like to start trusting in Jesus tonight? If so, I invite you to come and ask God to forgive you of all the wrong things you have done, and begin trusting in Christ and be made right.