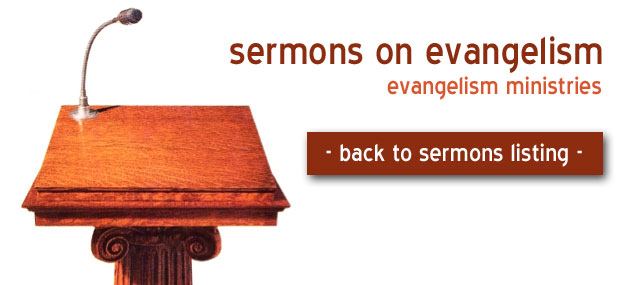 Becoming a Commissioned Christian
Luke 24:36-49
by Lyle Pointer
Acts 1:8 "But you will receive power when the Holy Spirit comes on you; and you will be my witnesses in Jerusalem, and in all Judea and Samaria, and to the ends of the earth."
Purpose: To encourage people to witness in the power of the Holy Spirit.
Introduction:
1. Jesus saw in His first followers what we experience now as His disciples.
2. Jesus knew their and our own fears, uncertainties, and hesitancies.
3. He prepared them in the same way He wants to prepare us.
4. Learn with me how Jesus commissioned personal witnesses:
I. Through the power of Jesus' presence.
A. "Jesus himself stood among them" (36).
1. Witnessing disciples carry with them the personal presence of Jesus.
2. Witnessing disciples hear Jesus speak peace to them.
3. We experience fear, but God wants to reassure us.
B. Jesus spoke to them (38).
1. Jesus continues to help us with our fears.
2. Jesus addresses our doubts (38).
3. Jesus deals with both fears and doubts by revealing Himself to us (39-43).
II. Through the power of Jesus' preparation.
A. "Then He opened their minds" (45).
1. Before the crucifixion, Jesus had taught His disciples.
2. But they did not comprehend His teaching.
3. Learning requires receptivity.
4. God opens our minds.
B. "He told them, 'This what is written:'" (46)
1. Jesus wanted His followers to understand the scriptures (45).
2. Jesus unwrapped the Old Testament teachings about Himself (44).
3. Scriptures point to Jesus (44).
4. Jesus fulfilled the forecasts of the Old Testament.
III. Through the power of Jesus' provision of forgiveness
A. Jesus suffered, died and rose from the dead (46).
1. This truth is to be proclaimed everywhere (47).
2. Everyone is to know about Jesus and what He did for us.
B. Jesus wants us to repent in order to find forgiveness of sins.
1. This message requires spokespersons.
2. "You are witnesses of these things" (48).
a. The disciples were physically present to be spiritually changed.
b. We are witnesses of the ongoing spiritual change.
c. What Jesus did then He does now in us.
d. Let's tell!
IV. Through the power of Jesus' promise.
A. Jesus promised the Holy Spirit to His followers (49).
1. The Holy Spirit comes because God promised and Jesus prayed.
2. We wait and welcome the Holy Spirit.
B. Jesus' Spirit provides power to witness (Acts 1:8).
1. We do not witness on our own.
2. We are not powerless: "you will be clothed with power" (49).
3. We are to go everywhere to everyone.
Conclusion:
1. Jesus made sure we were prepared and empowered.
2. We are commissioned by Jesus' preaching and the Holy Spirit's presence and power.