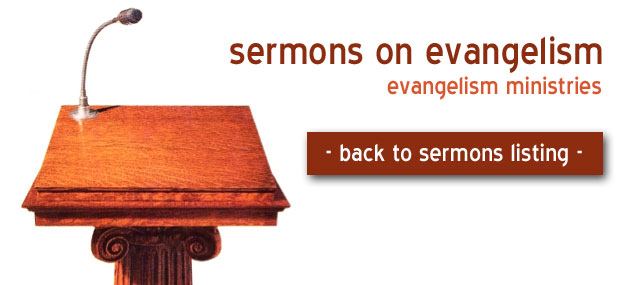 Impacting America: Starting Spiritual Conversations
John 5:1-14
John 5:6 ---"Do you want to get well?"
by Lyle Pointer
Purpose: To stir hearts of people by speaking about Jesus.
Proposition: Jesus engaged many people in conversation about God in order to save Israel.
Introduction:
1. Jesus openly declared His purpose to be: to seek and save the lost.
2. He also narrowed His earthly ministry to the lost sheep of Israel, the descendants of Jacob.
# Jesus sent out the twelve to His own countrymen (Matt. 10:6)
3. Later Jesus was to open His ministry to the world, the Gentiles.
4. For the rest of us our primary ministry will be our nation; how canwe impact America?
5. How did Jesus influence Israel?
a. Through miracles.
b. Through preaching.
c. Through storytelling.
I. Jesus also started spiritual conversations (6)
A. The invalid of 38 years who hoped to be healed (John 5:1-14), "Do you want to be healed?"
B. The woman caught in adultery (John 8) heard Jesus say, "I do not condemn you, go and sin no more."
C. To Nicodemus Jesus stated, "You must be born again" (John 3:3, 16) and "God so loved the world…."
D. To antagonists Jesus declared, "I can do nothing by myself. I can only do what the Father does" (John 5:19).
E. Jesus came to Mary and Martha's home to comfort them in the loss of their brother. At that occasion He informed them, "I am the resurrection and the life? (John 11).
F. Appearing to Mary of Magdala Jesus asked her questions, coached her on how to act toward Him, and instructed her to go tell others (John 20).
G. When Jesus interviewed Thomas, his faith took gigantic leaps to the point of stating, "My Lord and my God" (John 20).
H. With the backslidden Peter, overwhelmed by his denial of Jesus, the Savior engaged in dialogue, "Do you love me? Feed my sheep. (John 21).
II. Jesus asked questions (6).
A. He inquired as to the intensity of the man's desire to be healed.
B. He explored the man's responsiveness and receptivity.
# "Spiritual Conversation Starters" have been written to help Christians to engage unsaved people in dialogue. Here are some questions we can ask people to learn of their spiritual receptivity:
"Do you give much thought to God and spiritual things?"
"Tell me about your most memorable spiritual experience."
"What do you think is a person's greatest spiritual need?"
"Tell me about your church background; did you go to church as a child?"
"How do you feel about your upbringing and your awareness of spiritual things?"
"How would you describe your life with God now?"
"How do you think a person begins a personal relationship with God?
"When did you feel closest to God?"
- "What were the factors or influences that brought you near God?
- "What would renew that sense of closeness
"On a scale 1 to 10 (10 being closest to God), where do you see yourself in relationship with God?"
- Where do you want to be?
- How do you see yourself moving closer to God?
- How can I encourage you to get to where you would like to be?
III. Jesus found him (14).
A. Jesus did not just happen across this fellow at church.
B. Jesus went looking.
C. This speaks of intentionality and purpose.
Conclusion:
# During May 1998 in a class at Southern Nazarene University, Professor Lyle Pointer gave out an assignment to start spiritual conversations. Two young ladies came back to report they had led people to Jesus. One convert was a young black lady who lived near city center OKC. Another student led a young teenage boy to Christ.
1. If we are going to impact America we must start asking questions. We must engage people in conversation.
2. We cannot remain silent.
3. Let us ask ourselves this question: If I am as silent the next 30 years as I have been the last 3 years; will America be reached for Christ?
4. Who needs to hear about Jesus' love?
5. Let's covenant to go to those persons.