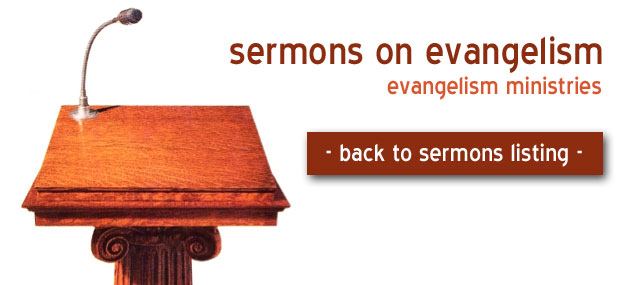 Making A Difference
Matthew 5:13-16
by David Busic
His story is one of courage, heroism, and sacrifice. He became a new symbol of patriotism. Pat Tillman, the football star, gave up a 3½ million dollar contract in the N.F.L. to serve his country in its war on terrorism. Pat Tillman is now the memorialized symbol of the meaning of sacrifice and courage. Tillman, a Special Forces ranger, was killed in battle while in Afghanistan. He could have opted to enjoy his career and the riches of football glory. Instead he chose to leave glory and gold for the price of being a soldier. He willingly put his life at risk.
Why? Why give up all that most people dream of? Why embrace a life you know will have hardship and possible death? Why? Those who knew him best gave this answer; "He wanted to make a real difference in life."
As Jesus looked into the faces of those gathered on the hillside, he issued a similar call to make a difference in life. His words were:
"You are to be the salt of the earth. But if the salt loses its saltiness, how can it be made salty again? It is no longer good for anything, except to be thrown out and trampled by men.
You are to be the light of the world. A city on a hill cannot be hidden. Neither do people light a lamp and put it under a bowl. Instead they put it on its stand, and it gives light to everyone in the house. In the same way, let your light shine before men, that they may see your good deeds and praise your Father in heaven."

I. Why is a difference needed?

A. People are finding little help in their search for significance.

B. The church with its message of help is falling short with its appeal to the populace.

1. Current statistics suggest the church is losing ground compared to population growth.
2. The church is more reflective of current culture than current culture reflects the message of the church.

From a statistical standpoint, very few unbelievers are making first-time commitments to Christ as Lord and Savior. The American church may be working harder than ever before, but it is getting fewer results than perhaps ever before. (1)
George Barna, church researcher, reveals that one-half of the church lacks both convictions and compulsion to truly live life according to Jesus' teaching. (2)
Younger people for the most part are staying away from churches and are even more interested in exploring other world faiths or spiritual beliefs. (3)
II. What difference should the church make?
A. The church is to have the influence of salt.
B. The church is to have the power of light.
III. How can the church be salt and light to its culture?
A. The church witness by loving and caring as did Jesus.
Changed Lives
by Tim Kimmel
"In 1921 Lewis Lawes became the warden at Sing Sing Prison. No prison was tougher than Sing Sing during that time. But when Warden Lawes retired some 20 years later, that prison had become a humanitarian institution. Those who studied the system said credit for the change belonged to Lawes. But when he was asked about the
transformation, here's what he said: 'I owe it all to my wonderful wife, Catherine, who is buried outside the prison walls.'
Catherine Lawes was a young mother with three small children when her husband became the warden. Everybody warned her from the beginning that she should never set foot inside the prison walls, but that didn't stop Catherine! When the first prison basketball game was held, she went…walking into the gym with her three beautiful kids and she sat in the stands with the inmates.
(1) Soultsunami by Leonard Sweet
(2) Soultsunami by Leonard Sweet
(3) The Emerging Church by Dan Kimball

Her attitude was: 'My husband and I are going to take care of these men and I believe they will take care of me! I don't have to worry!"
She insisted on getting acquainted with them and their records. She discovered one convicted murderer was blind so she paid him a visit. Holding his hand in hers she said, 'Do you read Braille?'
'What's Braille?' he asked. Then she taught him how to read. Years later he would weep in love for her.
Later, Catherine found a deaf-mute in prison. She went to school to learn how to use sign language. Many said that Catherine Lawes was the body of Jesus that came alive again in Sing Sing from 1921 to 1937.
Then, she was killed in a car accident. The next morning Lewis Lawes didn't come to work, so the acting warden took his place. It seemed almost instantly that the prison knew something was wrong.
The following day, her body was resting in a casket in her home, three- quarters of a mile from the prison. As the acting warden took his early morning walk he was shocked to see a large crowd of the toughest, hardest-looking criminals gathered like a herd of animals at the main gate. He came closer and noted tears of grief and sadness. He knew how much they loved Catherine. He turned and faced the men, 'All right, men, you can go. Just be sure and check in tonight!" Then he opened the gate and a parade of criminals walked, without a guard, the three- quarters of a mile to stand in line to pay their final respects to Catherine Lawes. And every one of them checked back in. Every one!"
B. The church illustrates authentic discipleship by living in Christ faithfully.

IV. What does it cost to make a difference?

A. The cost requires surrender and commitment to God's leading.
B. The cost necessitates sacrificing personal comfort.
The Story of Telemachus
He was born misshaped and frail. The fact that he survived beyond infancy was in itself a miracle. He had early on learned to live with ridicule and avoidance. He could have gone through life full of bitterness had it not been that he had experienced God's love through a special order of monks who lived in his village. He became a convert to the faith and was welcomed into their brotherhood where he found comfort, acceptance, and contentment.
That is until one day while in his devotions he heard the voice of God in his inner being say, "Go, I will lead you." Telemachus obediently prepared for his journey of faith saying to the others, "He must follow God's calling." He left the sanctuary of the monastery, and began his journey of faith and obedience. He was lead to join a caravan traveling to Rome. He entered the great city unsure of what to do next or where to go.
Telemachus was caught up in the shuffling hurry of the crowd and pushed and jostled as he went along with the mass movement. He found himself before a huge building and seeking to find his way discovered a darkened corridor with a beam of light at the end. The inner voice called, Follow me." Telemachus followed and as he walked into the light was in the midst of a huge arena where men were fighting and killing each other for the sport of the crowd. Telemachus cried out, "In the name of Christ, stop!" No one listened. He went from one combatant to the other being shoved, and knocked down crying, "In the name of Christ, stop!" The crowd roared with laughter at the sight of the little monk among the gladiators. Then suddenly in anger a sword flashed and Telemachus fell dead, his head severed from his body. The crowd grew still and silent. No one made a sound and one by one they rose to leave, shocked at the lifeless body of this little monk.
History records this was the close of the great coliseum in Rome and its gladiator games. Some say the games closed due to many reasons but Telemachus' story suggest His sacrifice made a difference.
-----------------------------
Jesus' words remain a direct appeal, "Make a Difference." Become a positive influence for Christ. Begin by surrendering to Jesus' call, "Follow Me." Live daily as one committed to loving as Jesus loved, forgiving as He forgave and helping others as He did.
Pat Tillman wanted to make a difference. Jesus says you can make a difference. Start by answering his call. Set aside your self governance to follow Him. Live His life. Do this and your life will make a difference now and for eternity.