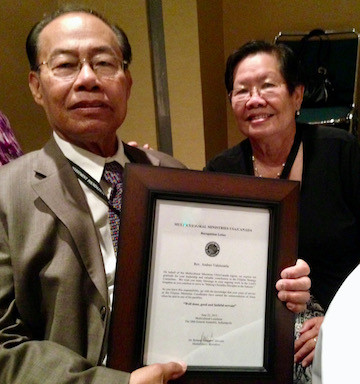 In Memory of Reverend Andres "Andy" Castro Valenzuela
Rev. Valenzuela, who served as Ethnic Facilitator for Filipino Ministries from 1991 to 2014, went home to be with the Lord in the early hours of Tuesday, the 30th of October at the Sacred Heart Hospital in Urdaneta Pangasinan, Philippines, where he had been in the ICU suffering pneumonia, post stroke and seizure since 6 October.
He was born on March 17, 1993 in Tabuyoc, Binalonan, Pangasinan, Philippines into a Roman Catholic family. He was nurtured in faith by American Missionary Rev. John Patee, who encouraged him to follow his call to ministry. In August 1953, Andres enrolled in the second class of Fitkin Memorial Bible Training School (now Philippine Nazarene Bible College) in La Trinidad, the provincial capital of Benguet Province, located 6 miles north of Baguio City, the summer capital of the Philippines. In March 1958 Andy graduated from Bible College and was among the first seven Filipno men who were ordained elders by General Superintendent Dr. Hugh C. Benner during the 4th Philippine District Assembly that celebrated the 10th Anniversary of the founding of the Church of the Nazarene in the Philippines.
—Rev. Rodrigo Quema, Filipino Ministries Facilitator
For more information about Rev. Valenzuela and his life, please see this NCN News article.