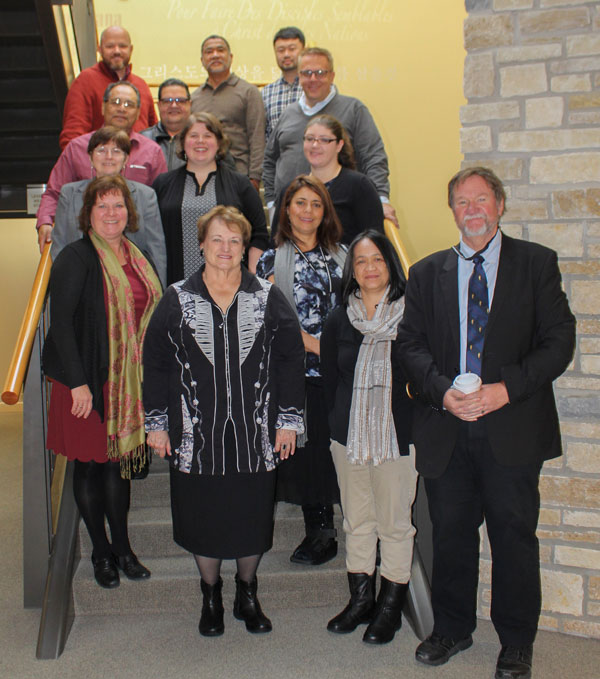 Nazarene Immigration Network Centers (NINC)

Front row-left to right - Teresa Stecker, Arlita Harris, Norma Gallegos, Pearl del Peret, Roger McCrummen
Second row - left to right - Margaret Scott, Sarah Bankard, Sarah Emerson
Third row - left to right - Tomas Alvarez, Alex Rodriguez, Joel Tooley
Back row - left to right - Josh Smith, Roberto Hodgson and Jonathan Fung
The King will reply, 'Truly I tell you, whatever you did for one of the
least of these brothers and sisters of mine, you did for me.' Matthew 25:40

The first organizational meeting of the Executive Directors of Nazarene 501c3's that have responded to the opportunity to open a legal ministry center that has been recognized by the Department of Justice and has an accredited representative met at the Global Ministry Center on November 9, 2017. The purpose of the meeting was to share resources, hear from experts on this area of ministry, network and talk about the future. From this meeting the name of the group was determined as the Nazarene Immigration Network and Rev. Teresa Stecker of the IC Compassion Center in Iowa City, Iowa was named as the Laision for the Church of the Nazarene in the USA/CANADA by Dr. Roberto Hodgson. In this role she will assist Dr. Hodgson at gathering he convenes in connection with the NIN.
Dr. Robert Broadbooks gave a devotional and spoke on behalf of the Church of the Nazarene as the Regional Director of USA/CANADA. Dr. Nell Sweeden, Global NCM Director brought greetings to the group. In addition Immigration Lawyer Mr. Roger McCrummen spoke on the topic of Ethics and Immigration. Ms. Sarah Bankard the Capacity Building Specialist with World Relief gave an update on World Relief. Multicultural Ministries has partnered with World Relief to assist us in this area of ministry. In the afternoon, Rev. Stecker gave each center time to share about what their site is doing in this area of legal immigrant ministry and then the day was concluded by addressing common issues at each site and future follow up.
The Church of the Nazarene currently has six DOJ (Department of Justice) Recognized and Accredited sites and many others in the process of doing so. The process to become recognized and accredited is a lengthy process which nvolves a lot of planning, preparation and prayer. Remember in your prayers these sites and those who are seeking to reach out to the least, last and lost in a practical way in the name of Jesus.
For more information about this ministry contact Rev. Teresa Stecker at Teresa@ICCompassion.org or the Multicultural Ministries office at multi@nazarene.org.
Nazarene Legal Immigration Network Sites
IC Compassion - Iowa District
Hand in Hand, Missio Dei - Northwest District
Immigration Resource Center of San Gabriel Valley - Los Angeles District
Medford First Church of the Nazarene - Oregon Pacific District
Western Oaks Church of the Nazarene - Southwest Oklahoma District
Nazarene Centro de Refugio - Florida District
Immigration ABC - Washington Pacific District - Washington Pacific District