A Holy Purpose: 5 Strategies for Making Christ-like Disciples
All senior pastors who did not receive a
FREE
complimentary copy at the M11 conference may request a free copy by email at
evangelism@nazarene.org
. Additional copies may be purchased at NPH.com.

A Holy Purpose Study Guide, written by Dr. Bill Wiesman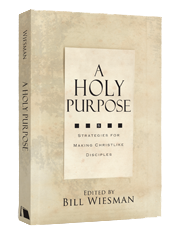 Dan Boone, Stan Toler, Tom Noble, and Marilyn McCool join us--along with many other writers--to reveal five strategies towards developing intentional leadership, renewing a vibrant church, identifying clear and coherent theology, achieving mission outreach, and cultivating a multifaceted church.
Bill Wiesman has compiled essays from strong church leaders that know the meaning of our holy purpose.
2011, 256 pages.