Meet Phineas Bresee . . .


Sometimes people refer to Phineas F. Bresee as the founder or father of the Church of the Nazarene. While the Church of the Nazarene denomination's beginning rested on the shoulders of many leaders, Phineas Bresee does stand out.
One reason for the focus on Bresee was that in October, 1895, Phineas F. Bresee, Dr. Joseph P. Widney and about 100 others, organized the first Church of the Nazarene at Los Angeles.
Rocky Road to Leadership
Bresee travelled a rocky road to get to this point. He was raised by parents who taught the Bible to him, and he was converted in the Methodist Church at a young age. God called him to the pastorate early. For most of his 50-plus years in the pastorate, Bresee was a leader in the Methodist denomination. He was well-respected, well-liked—a humble and holy man.
But his pastorate in Chariton, Iowa changed his life, and eventually his ministry.
Bresee had been a pastor for ten years—including being a circuit preacher, station pastor, and presiding elder—when he was assigned to a two-year pastorate at Chariton in 1867. One morning as he preached, Bresee experienced a fresh fire in his soul. He experienced a close encounter with the Holy Spirit and was sanctified wholly.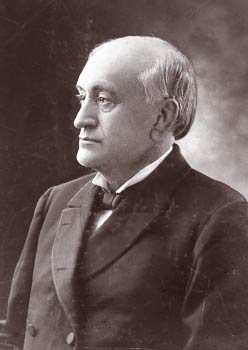 Bresee had never had any clear teaching on the subject, but it was real . . . and it changed his life. Bresee went from being a man who tended to be worldly, angry, proud, and doubtful of his spiritual standing to a man whose heart was filled with love and a desire to wholly live through the Holy Spirit.
Bresee was next assigned to pastorates in Des Moines and Council Bluffs, where he preached the doctrine of holiness, and a few people in his church were led into the experience.
In 1872 Bresee was honored to be one of the youngest, if not the youngest delegate to the General Conference of the Methodist Episcopal Church and member of that body.

In 1883, Bresee transferred to the Southern California conference, where he was quickly appointed pastor of the First Methodist Church in Los Angeles., where he found a small group of active holiness people. And there, his work as a special force for promotion of scriptural holiness had its actual beginning.
Bresee's next pastoral stop four years later was in Pasadena, where he held special meetings featuring holiness evangelists. Many people were converted and sanctified and a thousand people were taken into the church, all living in a high tide of spiritual power and victory.
The Question of Holiness and Passion for Missions
Dr. Bresee returned to another pastorate in Los Angeles and then was made Presiding Elder of the Los Angeles District, where he promoted a holiness revival throughout the district.
But then the opposition stirred. Some influential congregants opposed the doctrine of holiness and Dr. Bresee's methods of promoting it. The bishop in charge of the conference was not a holiness man and removed him from the presiding elder position.
Bresee was sent to smaller, less influential churches where a new field of service began calling for him. He began to develop a passion for mission work . . . of reaching the poor and neglected of the city.
Bresee saw that the churches were doing nothing to win these needy people. The poor did not feel welcome to worship in the churches. That's when Dr. Bresee was invited to help organize an independent mission, Penial Mission.
Bresee proposed that the Methodist conference make this a regular appointment or let him remain at the mission as a Methodist leader.
However, his proposals were rejected, as those in power felt that his working in such a mission would hurt the image of their church. After 37 years of serving the Methodist conference, with "almost unbearable sadness," Bresee walked away to this new calling of reaching the poor and ignored of society who would never be welcomed at the denominational churches in town. Bresee's theology of having a church simple enough that the poor would feel comfortable entering it developed.
Peniel Mission grew as Bresee influenced many of his friends to give timeand money to help with the work. But when Bresee went to the East to hold camp meetings and visit city missions, he received a letter from his co-workers at Peniel telling him his services were no longer needed.
A New Beginning
When Bresee finished the camp meetings and returned to California, friends and acquaintances urged him to start a new church. It would be a mission church to reach the poor, where he could preach holiness all he wished. His close associate, Dr. J.P. Widney suggested it should be called The Church of the Nazarene, in honor of the Christ, the lowly Nazarene.
That's when, in October 1895, Bresee organized the First Church of the Nazarene in Los Angeles with 135 charter members. Though the building was rough and plain, the pastors and leading laity were highly respected citizens. So both the rich and poor, high and low, felt welcome in this church Dr. Bresee and Dr. Widney co-pastored.By 1897, other Churches of the Nazarene were organized in Berkeley, Oakland, and Elysian Heights, Los Angeles.
All across the country, people were moving into a new, sanctifying relationship with God through the Holy Spirit—and were being asked to leave their staid, traditional churches that did not accept this holiness doctrine.
The news of the Church of the Nazarene spread throughout the United States.
In October 1898, Bresee was made General Superintendent by the first delegated meeting of all the churches of the Church of the Nazarene.
That year, Bresee also began writing and editing a paper which talked about the sanctifying experience and was sent all across the nation. That would become the Nazarene Messenger, and then Herald of Holiness, and even later, Holiness Today.
Different holiness groups from across the nation began to connect. As they met together, they wondered if this movement should be a denomination or an association of churches.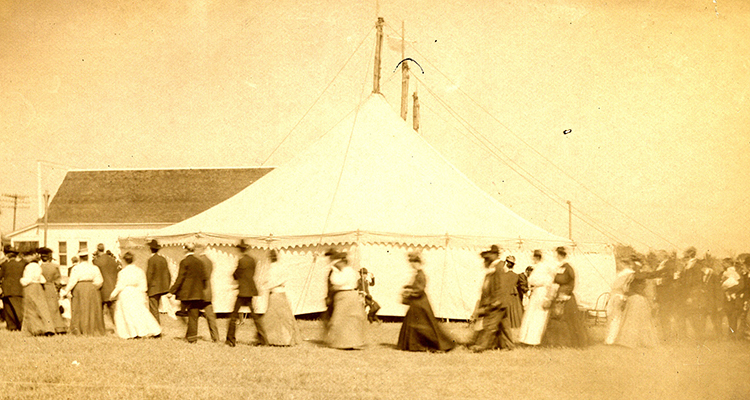 An Association Becomes a Denomination
On October 13, 1908, Dr. Bresee presided as more than 1000 holiness people from all over the nation met in a huge tent in Pilot Point, Texas, to officially join together.
Bresee continued to pastor Los Angeles First Church of the Nazarene until 1911. During this time it became one of the largest and best known holiness churches in the country. As if it weren't enough to be a pastor, editor, and General Superintendent, Bresee also founded and was first president of Pasadena College, which eventually became Point Loma Nazarene University.
As Dr. Bresee aged, his health began to falter. He was able to lead parts of the 1915 General Assembly, as a group from the British Isles joined the Church of the Nazarene. Later that year, on November 13, Dr. Bresee went to meet his Savior face to face.
During Dr. Bresee's 20 years as a General Superintendent in the Church of the Nazarene, the denomination grew from about 100 members to 32,00 members across the North American continent and the British Isles.
J.B. Chapman, the first general editor of the Church of the Nazarene, said, "In all these positions he proved himself a wise executive, a Pentecostal preacher, and a leader of remarkable strength. The Church of the Nazarene has taken its form and character from the example and advice of Dr. Bresee as from no other man who has been related to it. In fact, the Church of the Nazarene is an enduring monument to the memory of this great, good man; and it is just such a monument as he would have chosen for himself . . . The Church of the Nazarene has had many worthy teachers and eaders, and it may have more of these yet whom it will hold in high esteem; but it has had and can have but one founder and father; so that the life and work of Phineas Franklin Bresee, untarnished as they are by any unworthy choice of deed, are a heritage invaluable to Nazarenes, to the Holiness Movement, to the whole Church Militant and to the needy world."

For more about the history of the Church of the Nazarene, please see: http://nazarene.org/organization/general-secretary/historical-statement and http://nazarene.org/essentials
Reenactment of Dr. Bresee's final address to the Church of the Nazarene at the 1915 General Assembly. http://www.usacanadaregion.org/media-library/category/122-m15-conference/46-bresee-speech-and-film-clip-m15-plenary-1
To read the digital copy of the biography of Bresee's life, Phineas F. Bresee—A Prince in Israel by E.A. Girvin, http://wesley.nnu.edu/wesleyctr/books/0001-0100/HDM0091.pdf

For a digital copy of the book, Phineas F. Bresee—Mr. Nazarene by Emily Bushey Moore, go to Northwest Nazarene University's Wesley Center.