Native American Ministries
Welcome to  Native American Nazarene Ministries USA/Canada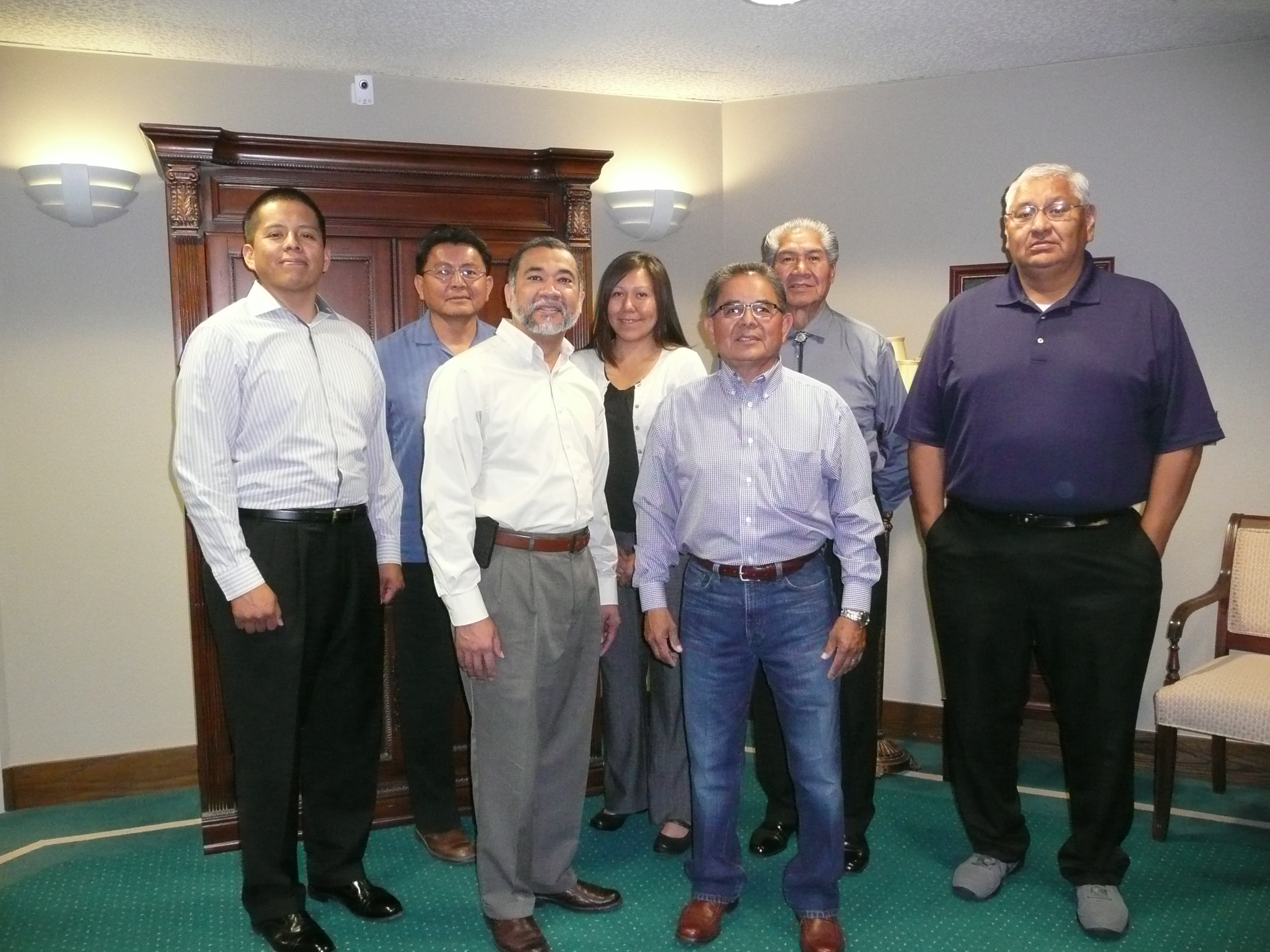 Native American Ministries Strategic Readiness Team Meets
The Native American Ministries Strategic Readiness Team met April 15 - 16 at the Bethany First Church of the Nazarene in Oklahoma City.  Pictured with Robert Hodgson, Multicultural Ministries Director are members of this committee wfrom left to right.  Jonathon Nells, Herman Nells, Lasonya Brown-Singer, John Nells, Julian Gunn and Matthew Asetamy.  The "Native American Strategy for Evangelizing Native Americans" is available by clicking here.  This document is being reviewed and will be available and updated in time for M15.
---
Dr. John R. Nells, Native American Ministries Facilitator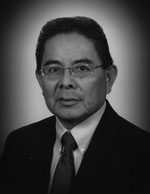 John R. Nells was born and raised on the Navajo Indian reservation in Northern Arizona.  He was raised in a home that was typical of Navajo Indian practices.  As a young adult, on February 20, 1971, he was introduced to the Gospel of Jesus Christ by the faithful ministry of Dilkon Church of the Nazarene.  First his mother, then his father, then John and his wife Juanita, then other members of the family found Christ. 
John was educated in government schools and after high school set out to be a business accountant, however, in 1972, John yielded to God's call on his life and began to prepare for Christian ministry at Nazarene Indian Bible College, Albuquerque, New Mexico.  John and Juanita graduated in 1976 from NIBC.
John was ordained by Dr. Eugene Stowe in 1979 and served as pastor for seven years before he accept the post of district superintendent in 1985.  He is now district superintendent for the Southwest Native American District, completing 27 years as a leader for the Church of the Nazarene among his people.  John was chairman of the Board of Trustees for Nazarene Indian Bible College for 12 years, currently the Chairman of the Board for Sun Valley Indian School.  For 20 years, John has served as a member of the Board of Trustees of Nazarene Bible College.  He is also currently serving as the Native American Mission Director for the Church of the Nazarene, USA/Canada Regional Office. 
John married Juanita in 1970 and have three sons, Reuben, Thomas and Jonathan, all of whom are married and are serving the Lord.  John and Juanita have ten very beautiful grandchildren.
The Native American Ministries Director is accountable to the Multicultural ministries USA/Canada regional office and his primary function is to implement the agreed-upon policies and strategies for evangelism and strengthening of existing structures on the various districts of the Church of the Nazarene.
This is accomplished through:
Arranged meetings with district superintendents and district leaders to help formulate and implement church planting strategies.
Upon the approval of the district superintendent, visit to churches and pastors who express a desire to sponsor culture specific congregations.
Upon the approval of the district superintendent, visit to culture-specific congregations that express the need for consultation in leadership development.
Recommend potential pastors for new and existing congregations.
Assist district superintendents, when requested, in the development of strategies for new initiative among specific people groups.
Please feel free to contact Dr. John Nells regarding Native American Ministries. Click here to view members of the Native American Ministries Strategic Readiness Committee
Multicutural Ministries - USA/Canada Region's 5 Strategic Priorities
---
Unique Mission
Native American Ministries: "exists to support districts, pastors, local churches, and leaders in the task of making Christlike disciples among Native American groups in the U.S. and Canada." It also endeavors to:
Encourage the development of strategy, initiative, and resources to reach the USA/Canada mission field through the visionary leadership of a Native American Mission Director and Strategy Committee
Facilitate the creation of resources for pastors, local congregations, and for ministerial preparation through the strategy committee;
Utilize as strategy committee members, church leaders who are committed to establishing the Kingdom of God in the hearts of Native American people in their communities
---
Plan of Action
Develop prayer initiatives
Start 7 new Native churches by 2020
Start a Native ministry in Canada
Target Cities to establish Native churches - Lawrence, KS; Rapid City, SD; Phoenix, AZ; Rio Rancho, NM; Anchorage, AK; Great Falls, MT; Albuquerque,NM; Winnipeg, MB 
Provide training and discipleship - promote DCPI training
Provide a National Native American Conference (NNAC) - Fall 2014
National Native American DCPI training - Spring 2015
Goals
Establish relationships with districts where Native work is present
Establish Native American mission endeavors
Promote Native American Ministries USA/Canada
---
Resources for Native American Ministries
To order at Gospel Tracts in English or additional languages contact tracts@gospeltracts.us.
Southwest Native American District Assembly 2008
SNAD NYI Blog