Multicultural Ministries
---

---
ROBERTO'S REFLECTIONS: Immigrants in the Bible… for such a time as this!
The Israelites (Hebrews) as Immigrants:
Now these are the names of the children of Israel who came to Egypt; each man and his household came with Jacob: Reuben, Simeon, Levi, and Judah Issachar, Zebulun, and Benjamin, Dan, Naphtali, Gad, and Asher. Ex. 1:1-4.
The Israelites became a nation of immigrants in the land of Egypt.  I want to focus my reflection on the Israelite tribes' identity and unity as an ethnic group. 
There is a rich diversity in the unity of the twelve tribes of Israel.  It is interesting that the biblical narrative in the book of Exodus starts with the names of the sons of Israel who are the roots of the formation of the Israelites, also identified ethnically as Hebrews.
The Israelites in the land of Egypt were fruitful and multiplied to the point that they became a threat for the new king of Egypt.  Unfortunately, this new pharaoh didn't know Joseph's great leadership in Egypt nor recognized the Israelites contribution to the Egyptian empire. In spite of the fact that they multiplied very rapidly they were still able to keep their identity as members of their individual tribes.  They did not want to lose their traditions as Israelites, nor as members of their own tribe's system.             
God liberated the Israelites from their bondage in Egypt and called one of their own, Moses, to be His instrument of justice and mercy to free them.   God affirmed the identity of the twelve tribes of Israel, creating new ways to keep that diversity alive in the new promised land.  "When the whole nation had finished crossing the Jordan the Lord said to Joshua, "Choose twelve men from among the people, one from each tribe, and tell them to take twelve stones from the middle of the Jordan from right where the priest stood and to carry them over with you and put them down at the place where you stay tonight"(Joshua 4:1-3).
It seems that God wanted the preservation of that great diversity among the Israelites.  God's mandate to Joshua to build a monument with the twelve stones was a recognition of the peculiar characteristics of the tribes as well as an affirmation to keep the twelve tribes' identity.  Through the biblical story in the Old Testament, the Israelites kept their individual tribes' identity even through the most critical times in their history.  The twelve tribes are a paradigm of the celebration of unity in diversity. 
Practical lessons from this reflection:
God called Moses to liberate the Israelites
God affirmed diversity
Ethnic identity is a rich legacy for future generations
Diversity and unity are both to be celebrated
SNAPSHOT
| | | | | | | |
| --- | --- | --- | --- | --- | --- | --- |
| Ethnic Group | District | Churches | 2012 Worship | 2012 Membership | 2012 New Nazarenes |   |
| Chinese | Alaska |                 1 |             30 |                   56 |                       -   |   |
| Chinese | Anaheim |                 2 |             22 |                   23 |                       -   |   |
| Chinese | Canada Central |                 2 |             92 |                   83 |                         8 |   |
| Chinese | Canada Pacific |                 2 |             22 |                   28 |                         1 |   |
| Chinese | Chicago Central |                 1 |             20 |                   10 |                       -   |   |
| Chinese | Los Angeles |                4 |           353 |                 478 |                      35 |   |
| Chinese | Metro New York |                 1 |           120 |                 377 |                    126 |   |
| Chinese | New England |                 1 |             75 |                 136 |                      12 |   |
| Chinese | Northern California |                 4 |           164 |                 229 |                      10 |   |
| Chinese | Washington Pacific |                 1 |             40 |                   43 |                         7 |   |
| Chinese Total |   |               19 |           938 |             1,463 |                    199 |   |
CALL FOR PRAYER
Global Theological Conference – South Africa
Chinese Facilitator, Rev. Samuel Chung
Chinese Pastors & Churches USA/Canada
Toronto Grace Church of the Nazarene  and Rev. Gena Torres in the death Rev. Octavio Torres
Pastor Leonard Jackson of Memphis, TN in the loss of  his father
EVENTS
April 8 – 10 – Black Ministries SRT Meeting – Global Ministry Center, Lenexa, KS                          
April 14 – 16 – Native American Ministries SRT Meeting – Bethany First Church of the Nazarene, Oklahoma City
April 28 – May 1 – Arab Pastors and Laymen Conference – Ashville, NC
If you would like to receive Roberto's Reflections e-newsletter please e-mail multi@nazarene.org.
---
A Diverse Church
Within the United States and Canada, there is enormous diversity. That diversity is reflected in the Church of the Nazarene. We seek to display the strength that comes from unity across different cultures. Multicultural Ministries is dedicated to resourcing the different cultures that exist within the Church of the Nazarene in the United States and Canada.  For information on our different ministries, visit our Multicultural Leadership page.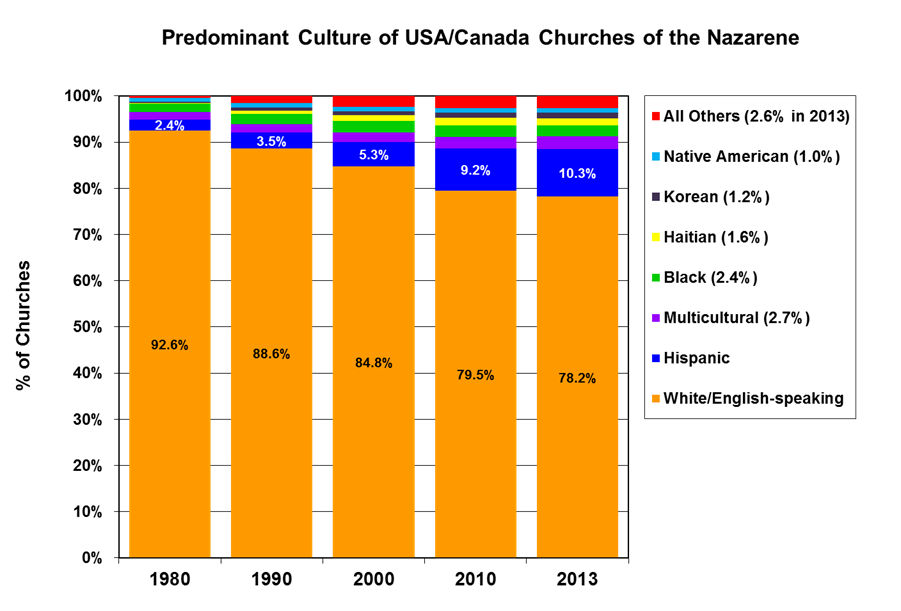 Crossing Cultures
Multicultural Ministries works with our different ethnic groups within the church to train leaders and develop strategies for making Christlike disciples. We also seek to connect people with active ethnic ministries and help them to establish other active ministries in the US and Canada. There are currently 18 active multicultural ministries active in the US and Canada. They vary widely in size and scope, but they all share a thirst to share the good news of Jesus Christ in their contexts. We have collected contact information for all of our various ministries, as well as informational pages for our most active multicultural groups.  You may download the brochure for Multicultural Ministries here.
If you would like to be involved in a specific multicultural ministry, the best method is to contact the director of that ministry. You can read information on all of our individual ministries by visiting our Multicultural Leadership page.
You can download How to Sponsor and Nurture an Ethnic Church Without Losing Your Mind. Originally published in physical form in 2010 by Oliver R. Phillips and Fletcher L. Tink, the entire book is available in PDF format here.
Get Involved
If you need additional information, we are pleased to help you find the answers you need. If you are interested in resources for a multicultural congregation, connecting with an existing ministry, or even starting a new multicultural ministry, you can contact the Multicultural Ministries office by clicking here.