MAKE THE CONNECTION WITH GOD'S WORD
Free Mobile App Offered to Church of the Nazarene

According to Pew Research 90% of American adults have a cell phone, and 58% of those are smartphones. Technology is here to stay. We can either see it as a nuisance to ministry and discipleship efforts, or we can engage it as a tool to help people draw closer to Christ.
Because of the generosity of Back to the Bible, we are excited to announce that every congregation in the Church of the Nazarene can have their own mobile app at no cost to the individual church. The mobile app is called goTandem – a free app that discovers the user's spiritual needs and then delivers personalized biblical content to help the user grow closer to Jesus.
goTandem is based on the results of a 7-year study by the Center for Bible Engagement of over 100,000 people from 20 different countries. This research showed the greatest spiritual growth among those who engaged the Bible four or more times a week. Back to the Bible created goTandem to help believers and non-believers conveniently engage the Bible on a daily basis.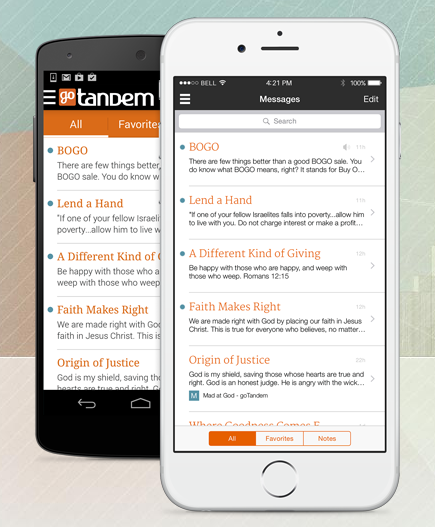 goTandem users have experienced positive growth. Currently, half of new goTandem users don't engage the Bible on a daily basis; but after a few months using the app, 83% engage their Bible four or more times a week.
In October 2014, the app launched its white label, which allows ministries to have their own app powered by goTandem's logic and technology. Ministries will know where their members are spiritually, measure how they are growing, and disciple their users on a daily basis.
For more information about goTandem email DiscipleshipPlace@nazarene.org, or call toll free at 888-243-2767.
Submitted by Arnie Cole, CEO of Back to the Bible